it's all about the message
it's all about the message
"If you don't believe in yourself, nobody else will!"
I think, the biggest change can happen due to motivation. I am an international speaker, because I want to reach as many people as possible to act for a better world.
You can motivate others too! What you have to do first is to bring your thoughts, your speech and your actions to the same cloud. Just then people will listen to you, they will believe in you and they will follow you.
Plastic fish
We can find over 140 Million tons of plastics in the ocean and every single year about 8 Million tons of plastics are added to this craziness. If we go on like this, the only thing we will find in the ocean by 2050 is plastic. Animals are dying due to this man made material, because they don't know it. They believe they can eat it, so they do and die. Or they get entangled in any kind of trash. 
What the biggest problems of the wonder material "plastic" are, why we must care about the ocean and what our consumption has to do with a healthy ocean – all these things I explain during this speech. 
At the same time I will inform about ocean conservation and why we do need to care about a healthy ecosystem ocean. 
Conservation and Consumption – Does it work?
We live in a system that tells us every day, how much more we still need to be happy. Publicity everywhere is trying to find its way into our minds to make us believe, that we have to buy more and more things to live a good life. But do we really need that all? What does mindless consumption do to us? What does it do to the planet and the environment? 
With this presentation I want to change our habits about consumption to a more respectful and sustainable way. 
I can, You can, VE GAN!
Overfishing, deforestation of the rainforest, factory farming, starvation, waste of water, diseases, human and animal rights – all these things come together on our plate. By simply changing our diet, we have the choice 3 times a day to say: "I don't want to participate in that!" 
During this presentation I will talk about all the positive backgrounds of a plant based diet and the effects it has on the environment and us all.
We can live a compassionate live without cruelty. It is possible and it is so easy!  
Radio talk on "Rai Südtirol" about the plastic issue  (in german)
"Südtirol Heute" made a broadcast about my talks in schools and the documentary HOPE (in german)
EUREGIO Environmental Price 2017
I won the 2nd price for all the speeches and projects I do with kdis in schools.
NO EXCUSES ANYMORE
My speech in front of 500 students from 3 different high schools at the kick off of their "year for sustaniability".
GUILTY IN DISTURBING PUBLIC FREEDOM
A Portrait about me and all my projects and campaigns until 2016.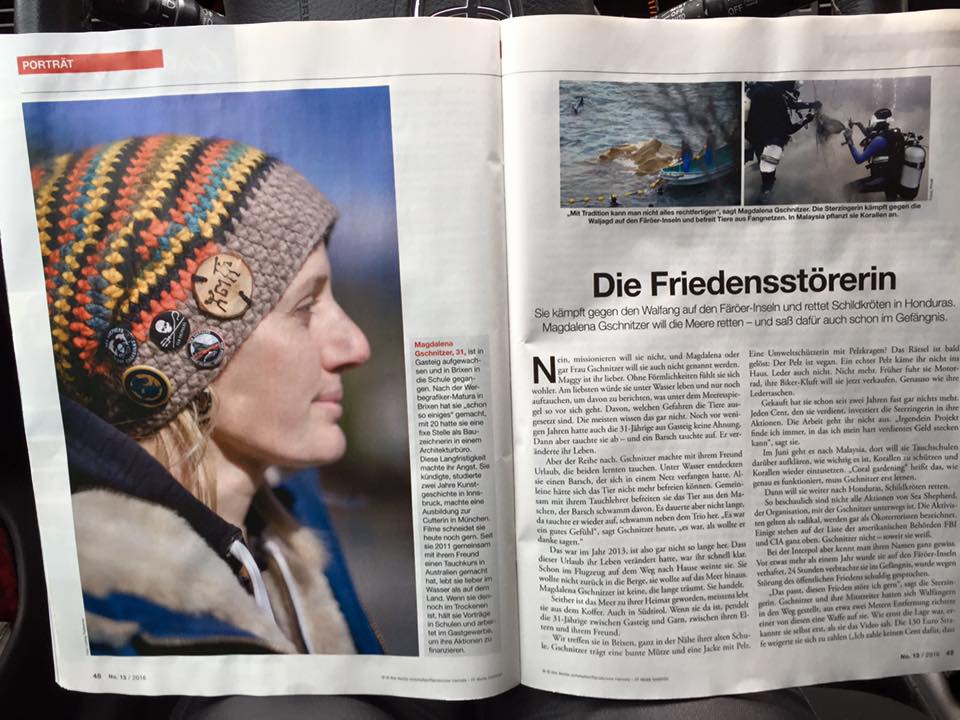 GUEST SPEAKER AT A HIGH SCHOOL
This high school wrote an article about the speech I gave. 
FOR THE ANGELS OF THE SEA
Article about my arrest on the Faroe Islands in 2014.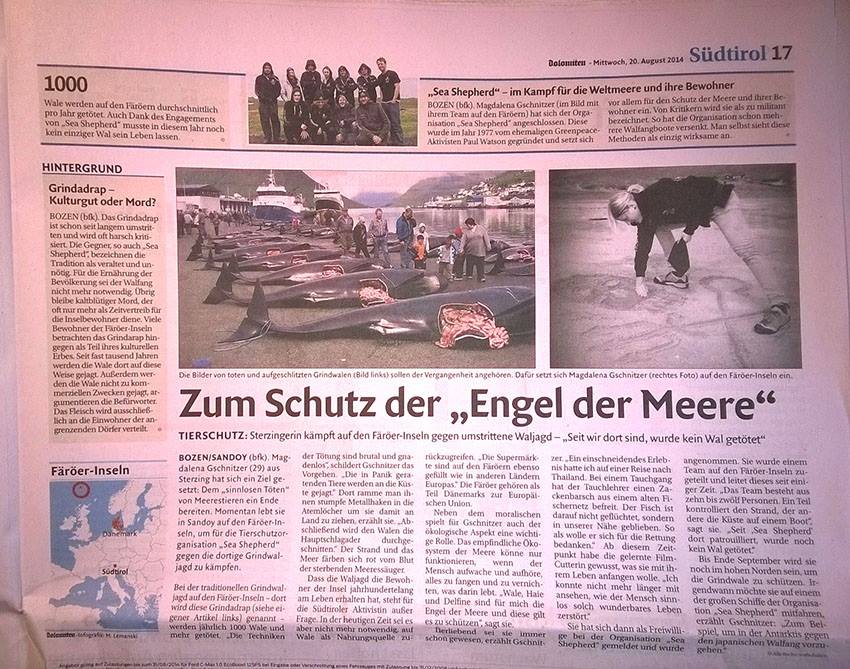 EVERYONE CAN CHANGE THE WORLD
About my documentary HOPE – Big Change Starts Small.
TO SWIM WITH DOLPHINS 
The background of this cruel tourism industry and why nobody should enter dolphin show.
BETWEEN THE SHARKS
A 6 page article about the shark crisis and the campaign I was involved in. 
SÜDTIROL PELZFREI
Standing up for animal rights and against fur is making headlines in the local news.